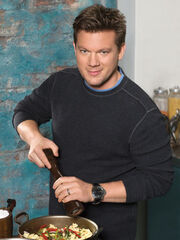 Tyler Florence is a Food Network personality, hosting and/or appearing on various shows, including Tyler's Ultimate.
Tyler Florence (born Kevin Tyler Florence on March 3, 1971) is a chef and television host of several Food Network shows. He graduated from the College of Culinary Arts at the Charleston, South Carolina campus of Johnson & Wales University in 1991. He was later given an honorary doctorate from the university for his culinary success.
Florence was the host on Globe Trekker, hosted Food 911 and How to Boil Water, and currently hosts Tyler's Ultimate and The Great Food Truck Race, all on Food Network.
He was featured on the ABC TV show Shaq's Big Challenge, which aired on July 17, 2007 and Momma's Boys, a reality show produced by Ryan Seacrest. He has also appeared on The Oprah Winfrey Show in a nationwide Sandwich Showdown. He has appeared a number of times on The Today Show, and was featured on The View in 2008.
Florence serves on the board of the national nonprofit Afterschool Alliance, an organization that works to promote and to support quality after-school programs. In 2007, Florence and fellow chef Joey Altman co-hosted a celebrity chef cook-off to benefit Afterschool Alliance.In 2008, Florence was named the Dean of Culinary Education at COPIA: The American Center for Wine, Food and the Arts.
External Links
Edit