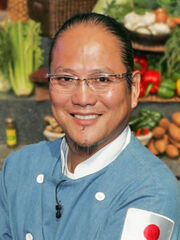 Masaharu Morimoto is an Iron Chef on Iron Chef (the third "Iron Chef Japanese") and on Iron Chef America.
Masaharu Morimoto, born May 26, 1955, in Hiroshima, Japan) is an Iron Chef on both the original Iron Chef and in Iron Chef America. He is also known for his unique style of presenting food.
Morimoto received practical training in sushi and traditional Kaiseki cuisine in Hiroshima, and opened his own restaurant in that city in 1980. Influenced by Western cooking styles, he decided to sell his restaurant in 1985 to travel around the United States. His travels further influenced his fusion style of cuisine. He established himself in New York City and worked in some of Manhattan's prestigious restaurants, including the dining area for Sony Corporation's executive staff and visiting VIPs, the Sony Club, where he was executive chef, and at the exclusive Japanese restaurant Nobu, where he was head chef before striking out on his own and becoming an Iron Chef.
On April 11, 2011, Morimoto made his acting debut on the Hawaii Five-0 episode titled "Ma Ke Kahakai" as himself.