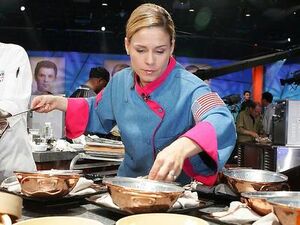 Iron Chef America (ICA) is a Food Network show based on the Japanese show Iron Chef. As of May, 2015, the current Iron Chefs are: Bobby Flay, Masaharu Morimoto, Michael Symon, Jose Garces, Marc Forgione, Alex Guarnaschelli, and Geoffrey Zakarian
The show is presented as a successor to the original Iron Chef, as opposed to being a remake. The Chairman is portrayed by actor and martial artist Mark Dacascos, who is introduced as the nephew of the original Japanese chairman Takeshi Kaga. The commentary is provided solely by Alton Brown, and Kevin Brauch is the floor reporter. The music is written by composer Craig Marks, who released the soundtrack titled "Iron Chef America & The Next Iron Chef" by the end of 2010. In addition to Brauch, regular ICA judge and Chopped host Ted Allen provided additional floor commentary for two special battles: Battle First Thanksgiving (Symon/Flay v. Cora/Morimoto) and Battle White House Produce (Batali/Lagasse v. Flay/Comerford).
The Iron Chefs
[
]
On this version of Iron Chef, the Iron Chefs have either been previous Food Network personalities, are current personalities, were part of the original Iron Chef, or earned their position on The Next Iron Chef.
Iron Chef statistics
[
]
The winning percentage for Iron Chefs participating on Iron Chef America is based on a weighted average methodology. A win is worth one (1) point, a draw is worth a half (0.5) point and a loss is worth zero (0) points. To calculate the winning percentage rate, the total number of points earned is summed up, and that sum is then divided by the number of battles the Iron Chef has fought. The win/loss data is based solely on the performance of the participant as an Iron Chef in Iron Chef America: The Series and the Battle of the Masters.