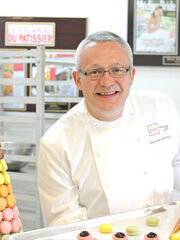 Florian Bellanger is a French pastry chef and former executive pastry chef at Fauchon. He is a judge on Food Network's Cupcake Wars.
Early career
Edit
Bellanger grew up in Paris, France and spent much of his free afternoons baking for his family. However, a childhood chocolate allergy prevented him from enjoying sweets and desserts for 6 years which had temporarily discouraged his desire to bake. At age 15, Bellanger applied to one of Paris's prestigious pastry schools, the École de Paris des Métiers de la Table ("Paris school of table skills"), but was rejected for being one year too young. By 1986, he graduated from the school with a specialization in pastry cooking and a specialty in chocolate and ice cream; he now says chocolate is his favorite ingredient and admires its versatility, claiming it is "fun" and something "taken for granted."
Before starting his own company, Bellanger was the executive pastry chef at Fauchon and oversaw 24 other pastry chefs at its Tea Salon flagship store in New York City, a "legendary French Epicurean emporium" of cakes, cookies, ice creams and sorbets. There, he became known for creating inventive combinations of flavors outside of the norms of tradition, such as éclairs flavored with orange zest, passion fruit, or coconut and raspberry marshmallow cake, Toulouse violet ice cream and raspberry-chili pepper sorbet. From 1991 to 1994, he was under the command of famous French pastry chef Pierre Hermé and was also the executive pastry chef for Fauchon's flagship store in Qatar from 1994 to 1996.
Bellanger was pastry chef of the world renowned (3 Michelin-star) restaurant Le Bernardin from 1996 to 2001, where his desserts were described as "light and dreamy" by Ruth Reichl of The New York Times.