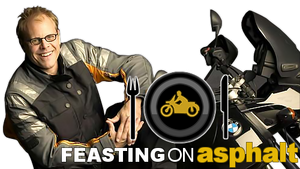 Feasting on Asphalt is a Food Network travel series starring Alton Brown.
Feasting on Asphalt explores "road food" (eating establishments which cater to travelers) in the historical and present-day United States, with an emphasis on unique restaurants and regional cuisine. In the first two seasons, Brown and his crew seek "good eats" across the country, via Brown's BMW motorcycle. "As far as I'm concerned, there's no better way to experience the road than from the back of a bike," says Brown. During the third season (titled Feasting on Waves), Brown trades the motorcycle for a boat to island hop throughout the Caribbean with a similar mission.
Network promo
Edit
Alton Brown searches for America's culinary roots and Caribbean flavors in Feasting on Waves. He starts his journey in St. Kitts, aka St. Christopher (named by Christopher Columbus, after himself), and travels through the Leeward Islands on to the British Virgin Islands. In the spirit of Feasting on Asphalt, he seeks out the most authentic, traditional foods of the regions and meets the people who create them. Join Alton as he ventures to restaurants, roadside stands, street vendors, farmers' markets, farms, spice houses and the homes of local cooks who make regional specialties.
External Links
Edit