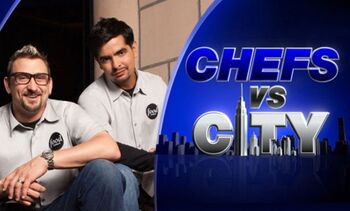 Chefs vs. City was a competition/travel show starring chefs Aarón Sanchez and Chris Cosentino, who traveled to different cities of the United States to challenge two local chefs to a variety of food-related challenges. Also featured was actor Ethan Erickson as the show's host.
The show first aired on August 7, 2009.
Show format
Edit
Each episode takes place in a heavily populated United States city. The show features two teams: two Food Network chefs (Sanchez and Cosentino) and two chefs from the featured city. At the beginning of the show, each contestant receives a backpack with certain instruments that they'll use during the contest, and a dossier with information on their first stop. Each team is given a Ford Expedition to move around the city as they try to reach each stop ahead of the other team.
At each stop, both teams have to complete a certain food-related task before they receive a new dossier and advance to the next contest. Examples of tasks featured are: eat a whole serving of an extremely spicy dish or a large dish, sampling and separating products, and cooking or prepping dishes.
After the final contest, the contestants have to race through a finish line together to win.
Chris and Aaron have a win-loss record of 14–6.
Differences between Seasons 1 and 2
Edit
During season 1, the competitors would have to run to the finish line. But, during season 2, they would drive to the finish line then run. And, the directions on the signs at the challenges got shorter. The first five season 2 episodes featured Chris and Aaron against fellow Food Network stars, who acted as the "City" representatives.
Cancellation
Edit
In 2010, Chris Cosentino wrote on his Twitter page: "Chefs vs City has been canceled! Thanks for all the support enjoy the reruns"[1] In 2014, he gave a talk about how he regretted participating in the series.[2]
| Episode | Show # | Date | City | City Chefs | Winner |
| --- | --- | --- | --- | --- | --- |
| 1 | CS0101 | August 7, 2009 | New York, New York | Kelsey Nixon and Claire Robinson | Chefs |
| 2 | CS0102 | August 14, 2009 | Las Vegas, Nevada | Stephen Hopcraft and Santanna Salas | City |
| 3 | CS0103 | August 21, 2009 | Boston, Massachusetts | Peter and Robert Depesa | Chefs |
| 4 | CS0104 | August 28, 2009 | San Francisco, California | Anna Wankel and Melissa Perello | Chefs |
| 5 | CS0105 | September 4, 2009 | Chicago, Illinois | Gregg and Joey Morelli | Chefs |
| 6 | CS0106 | September 11, 2009 | Los Angeles, California | Amy Powell and Nino Linsmayer | City |
| 7 | CS0107 | September 18, 2009 | New Orleans, Louisiana | Alfred Singleton and Stephanie Bernard | Chefs |
| Episode | Show # | Date | City | City Chefs | Winner |
| --- | --- | --- | --- | --- | --- |
| 1 | CS0201 | April 18, 2010 | Miami, Florida | Claire Robinson and Sunny Anderson | Chefs |
| 2 | CS0202 | April 25, 2010 | Atlanta, Georgia | Robert Irvine and George Galati | City |
| 3 | CS0203 | May 2, 2010 | Savannah, Georgia | Jamie Deen and Bobby Deen | City |
| 4 | CS0204 | May 9, 2010 | Dallas, Texas | Aaron McCargo, Jr. and Adam Gertler | City |
| 5 | CS0205 | May 16, 2010 | Phoenix, Arizona | Duff Goldman and Geof Manthorne | Chefs |
| 6 | CS0206 | May 30, 2010 | Hollywood, California | Daisy Roman and David Rosenberger | Chefs |
| 7 | CS0207 | June 18, 2010 | Seattle, Washington | Carrie Mashaney and Jason Stratton | Chefs |
| 8 | CS0208 | June 25, 2010 | Portland, Oregon | Gabriel Kapustka and Ryan McMallen | Chefs |
| 9 | CS0209 | July 16, 2010 | San Diego, California | Kari Rich and Steve Pickett | Chefs |
| 10 | CS0210 | July 23, 2010 | Palm Springs, California | Tony DiLembo and Thomas Hogan | City |
| 11 | CS0211 | August 13, 2010 | Philadelphia, Pennsylvania | Quincy Logan and Chaz Brown | Chefs |
| 12 | CS0212 | August 20, 2010 | Baltimore, Maryland | Ann Marie Langton and Thomas Looney | Chefs |
| 13 | CS0213 | August 27, 2010 | Washington, D.C. | Terrell Danely and Ryan Gordon | Chefs |
External links
Edit
References
Edit