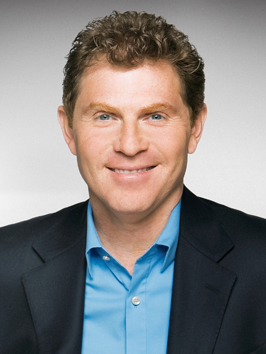 Bobby Flay is a chef and the host of several current and past Food Network shows, including Throwdown with Bobby Flay, Boy Meets Grill, and Grill It! with Bobby Flay.
Biography
Edit
Robert William "Bobby" Flay (born December 10, 1964) is an American celebrity chef, restaurateur, and reality television personality. He is the owner and executive chef of several restaurants: Mesa Grill in Las Vegas and the Bahamas; Bar Americain in New York and Uncasville, CT; Bobby Flay Steak in Atlantic City; Gato in New York, and Bobby's Burger Palace in 18 locations across 11 states.
Flay has hosted many cooking shows and specials on Food Network and on Cooking Channel, some of which are no longer on the air:
Flay served as a judge on Wickedly Perfect, The Next Food Network Star, and The Next Iron Chef. He regularly appears on The Best Thing I Ever Ate, has cooked with Emeril Lagasse on his show Emeril Live, and with Paula Deen on her program Paula's Party.