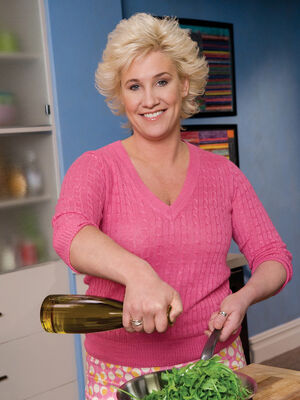 Anne Burrell is the host of the Food Network show Secrets of a Restaurant Chef.
She was Mario Batali's sous chef in Iron Chef America and has been a Chopped celebrity champion and a competitor in Cutthroat Kitchen.
She is the co-host of Worst Cooks in America.
Biography
Edit
Anne W. Burrell (born September 21, 1969) is an American chef, TV personality, and former an instructor at the Institute of Culinary Education in New York City until 2007. She is the host of the Food Network show Secrets Of a Restaurant Chef and co-host of Worst Cooks in America. She is also one of Iron Chef Mario Batali's sous chefs in the Iron Chef America series and appears on other programs on the network such as The Best Thing I Ever Ate. She was a contestant on the fourth season of Food Network's competition show, The Next Iron Chef (being eliminated in episode 6). She was also a contestant on the first season of Chopped All-Stars, winning the "Food Network Personalities" preliminary round to advance to the final round, where she placed second runner up to Nate Appleman (winner) and Aarón Sanchez. She also hosted the series Chef Wanted with Anne Burrell in 2012-2013.
Early life and education
Edit
Burrell was born September 21, 1969 in Cazenovia, New York, and attended Canisius College in Buffalo, New York, graduating with a Bachelor of Arts (BA) degree in English literature and communications in 1991.
A year later, Burrell enrolled at the Culinary Institute of America, eventually graduating in 1996 with an Associate in Occupational Studies (A.O.S.). She also studied at the Italian Culinary Institute for Foreigners (ICIF) in Asti, in the Piedmont region of Italy.