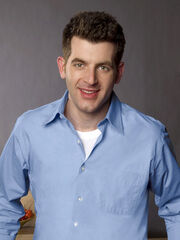 Adam Gertler is an American chef, television personality, and actor. He was the runner-up on season four of The Next Food Network Star, and is a host on FX Movie Download.
In 2009, he hosted Food Network's prime-time series Will Work for Food, where he gave viewers behind-the-scenes access to countless food-related jobs as he learned how to do everything from ice sculpting and truffle foraging to competitive eating and cranberry harvesting.
On July 12, 2010, Kid in a Candy Store premiered on Food Network, featuring Gerlter traveling throughout the United States for more behind-the-scenes explorations, this time focusing on desserts. The show previewed on July 11, 2010 after a new episode of The Next Food Network Star.
Gertler grew up in Commack, New York and in 1999 graduated from Syracuse University with a BFA in acting. He served as executive chef for The Smoked Joint, a restaurant in Philadelphia, Pennsylvania, until that restaurant closed. He now lives in California.
He currently hosts Man vs Child: Chef Showdown on FYI Network.